Reactor 17
This page contains full, up-to-date information on Reactor 17. It is updated in sync with the MODDB Page.
---
Bio:
Follow a path of Discovery and Secrets as you take on the role of Leo, a mysterious character that showed up in the town of New Elizabeth without any trace of previous existence. Finding out that the town wont talk to anyone from "Dark Mansion", Leo is classed as an outcast that only the Mayor will talk to. He takes on a mission to seek out and shut down the most powerful source of energy in the entire parallel world of Paradise, Reactor 17. Travel through dark and dangerous places ranging from Mines and Dungeons to The Abandoned Mansion and finally, Delta Labs. Meet friends along the way and trade items to achieve your goal.
Team:
| | |
| --- | --- |
| Leo_V117: | Programmer, 3D Modeller, Level Designer, Graphics Artist. |
| Reaper: | 3D Modeller, Graphics Artist. |
| Arcones: | Support, Programmer. |
| Cork279: | Level Designer, Graphics Artis, Sound Artist. |
News:

Reactor 17 News: 8 - 03 - 2011
Hello there, fans of Reactor 17. Guess you read by the summary that this is the First news post on R17. We're gonna run through a few things that we currently have completed and what will be completed in the next few weeks or so. Firstly, theres a few things I would like to mention before I write up any news on R17.
Now, at the end of each month, there will be a news post. Each one will contain a brief overview of what needs completing and what has already been completed. As this is the first one, there isnt much to post. At the end of each news post, there will be an FAQ section, answering a select few questions that you guys post, I will try to answer these as truthfully as possible and ensure they get straight to the point. And another thing before I start talking about R17, If any of you wish to contribute to this game, feel free to apply to the Delta Studios Team ensuring you show some of your own work when you apply. So, I think thats all I need to mention so far.
As there isnt much going on at the moment... I can tell you this. The first map for R17 is nearing completion, and will be added to a secure archive where nothing can touch it. We may also have a new recruit coming in to give me a hand, he's a friend from college so I know exactly what he's capable of... and He's willing to create a few models for the project, the first one will be a skeleton, Animated and exported to work in sync with Sandbox. We also have another person assisting with the concept art as I have a lot of work on my hands.
That concludes the news, now for a short FAQ.
Q: What happened to the previous 16 Reactors?
A: They were destroyed when they became unstable so they wouldn't cause too much damage to their surroundings.
Q: When is the game going to be released?
A: It is unknown as of yet, it depends on when the next version of PAS is released, then the Alpha/Pre-Alpha can be released to the public.
Q: What version of PAS do I need in order to run R17?
A: Any version after 2.6.1.
Q: Can I create a mod for Reactor 17 after it has been released?
A: Yes, yes you can. Providing that it works with the later releases of R17 and PAS.
Q: Can I apply for a paid position in the team?
A: No, this is purely a free, non-commercial project that requires volunteers only.
Current Status - April: Week 1
Maps:
We currently have one map, not counting those that were used for the wallpapers in Fan Pack #1, and this map isnt finished as of yet. Yes... an entire month and STILL only working on the first map. But dont panic, this is a good thing because it contains a LOT of detail.
Music:
Thanks to Cork279, we have 2 completed music tracks for Reactor 17. These are available in the Videos tab. And, I personally think that he did an amazing job with it all. More coming soon!
Level Design:
The majority, if not all, of the levels will contain a high level of detail. Lighting levels are based on those seen in real life, using actual experience as guides. Outdoor lighting will be fairly realistic in comparison to most games built with the Platinum Arts Sandbox Free 3D Game Engine.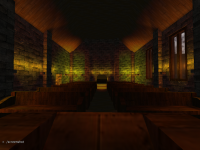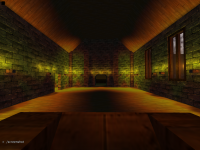 These images show clear changes better than most of the others, they have about 24 hours difference between them.
Models:
Reaper, our 3D model designer, is currently working on a rather nice looking Skeleton Warrior. We are unsure as of when this will be available for preview as it's taking a little while to develop. As soon as the model is complete, we will upload a video of it in the model render and Sandbox environment.
Thats as far as the game is at this time. Stay tuned next week for the next update.
Music:
---